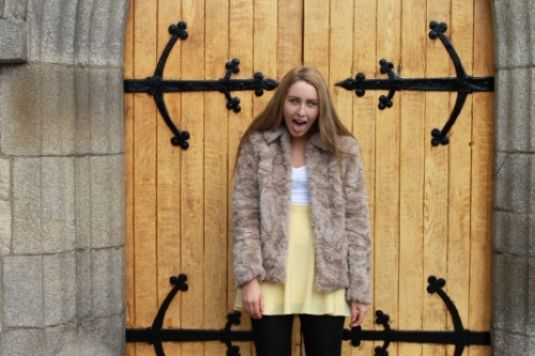 So yellow seems to be 'The It' colour for spring/summer 2013, making headlines in top catwalks on fashion week in
London
,
New York
and
Milan
. What I took out of the shows is that yellow is most defiantly IN for 2013. It is
a trend that has me so excited that I couldn't wait to get my hands on the perfect yellow piece and when I came across this lush lemon skirt is Miss Selfridge I almost had an accident trying to get to my purse quick enough to order it! From Fendi and GUCCI to DKNY and Oscar De La Renta i predict that this colour is going to be huge. Have you noticed that almost everyone is styling it with monochrome and a lot of celebs were seen wearing yellow at the Emmy's. Yellow is defiantly one to keep your eye out for.
Im a maaa-hooo-sivve fan of trainers with skirts , it gives the look a grungey feel and its really in at the moment. I have styled this look with a fur coat and it finishes this look off with a warm , classy and natural style. I wore a plain white vest top because i did'nt want to take away from the the main subject or focal point which is the lemon skirt.
airmax- champion sports