Hello everyone!
So I've been quite sick of the last couple of week and I went to the doctor and I'm on loads of antibiotics and lotsa panadol he he he , I have a really bad cold and haven't been posting a lot , if you follow me on instagram you'll know that I'm always posting and the number of pictures has gone down so here I am lying in bed sneezing constantly and writing this post I got out a bed and had and forced myself to do this post and I really enjoyed doing it ! The best thing is I feel much better now! I think it's because how much I loved this outfit. I really do this ying yang dress from
H&M
transformed into a skirt and my beloved studded lace
Topshop
corset with my trusty arable boots this out is perfect for a festival I don't know about you but I'm feeling very festively at the moment and I'm not even going this year how sad :(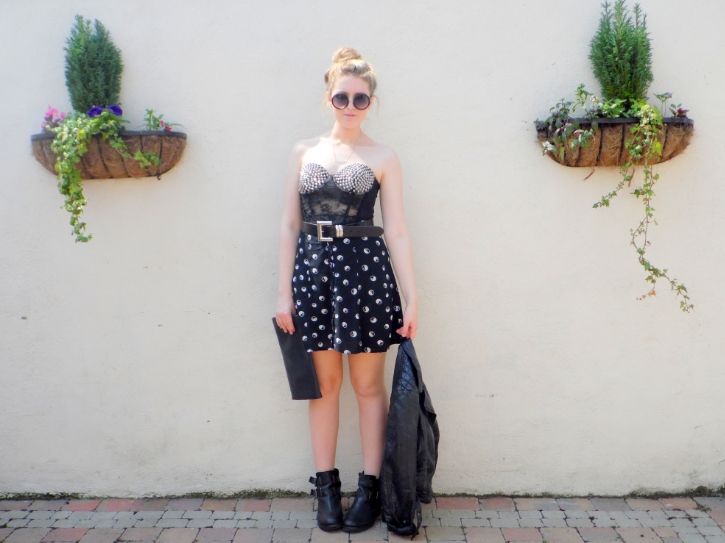 So summer has returned to
Ireland
again for the next week and I'm off to Wexford for the weekend to relax before I'm back in college on Monday and soaking up as much Irish sun as I can as it's so rare!
I said I would do a nose piercing post and I didn't want to jam it into this post as I feel it would be too crowded. It deserves it very own post really he he he . My hair has finally grown back to the length it was two years ago yes two whole years it took! I'm so happy it's about two or three inches under my bust which was what it was before I cut it to my shoulders and I hated it! So happy its back.
So here is my July need. I am so obsessed with white at the moment I really love all white outfit but I am completely broke right now its so sad awe. My mouth is watering looking at this outfit, wow wow wow........